Purchasing
Purchasing allows you to create purchase lists and to track purchase orders.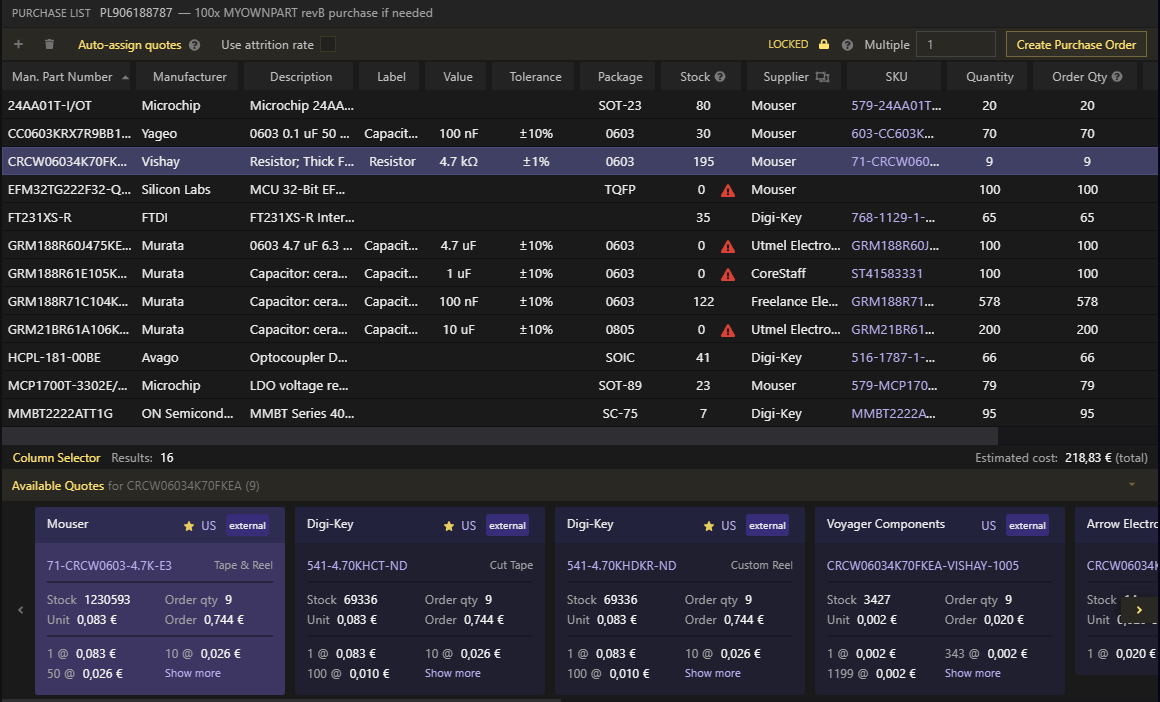 Purchase Lists
Purchase lists can be manually created or through Projects > Pricing & Availability, whenever you need to buy additional inventory to build a project. On a purchase list you define the quantities you need or want to buy and from which suppliers. Available Quotes tell you from which suppliers a given part is available and at what price. Quotes with insufficient stock and minimum order quantity (MOQ) higher than the desired order quantity are filtered out.
Enforcing selection of quotes is optional and can be enabled/disabled through Settings > Workspace. When enabled, a quote must be selected in order for you to be able to create a purchase order. If disabled, all it takes to create a purchase order is to have a supplier defined on each item. A preferred supplier will be automatically picked, either from global preferred suppliers (defined through Settings > Workspace) or from a part's preferred supplier (defined on the part itself).
As picking quotes manually can be very time consuming, you can also auto-assign them to all items on a purchase list. By default, the app tries to get a quote from your preferred suppliers and if it can't find one, it will try to get the cheapest one available. The app can also be configured to only pick quotes from preferred suppliers (ignoring other suppliers) by setting the preferred suppliers only option in the settings.
Purchase Orders
From a single purchase list you can generate multiple purchase orders, in case you have decided to buy the parts you need from multiple suppliers. Purchase orders allow you to then track the order on that specific supplier.
The purchase order will be marked as open while to signal it wasn't been placed on the supplier yet. Once the order has been placed, you should mark it as processed. Finally, as the order is delivered you can mark it as received. Items on a purchase order can also be individually marked as received in case you receive them at different times (e.g. back-ordered items).
Merging Purchase Orders
Often you might want to place an order to a single supplier that accommodate purchase lists (and thus, orders) from multiple projects. Let's say for project A and B you created a purchase list and then a respective purchase order for each. Instead of placing them individually, you can merge the resulting purchase orders.
On a merged purchase order you can group items by purchase lists. This way you can easily understand for which purchase lists or projects you are ordering these parts for. It might happen you are ordering 100 units of Part A, being 20 units for PurchaseList 1 and the remaining 80 units for PurchaseList 2.
Only purchase orders with the same supplier can be merged.
Importing Parts Through Purchase Orders
A way to import parts into the app is to import purchase orders through a CSV file. Some distributors (e.g. DigiKey, Mouser) allow customers to export their carts into a CSV file which can them be imported in the app. In some cases, the exported file might need some processing beforehand. For example, Mouser allows you to export a cart into a XLS file containing images and other irrelevant data.
When importing a purchase order through a CSV file only the Supplier Part Number is mandatory. However, providing the Man. Part Number as well will often result faster importing process, as the app can fetch additional information about each part faster.